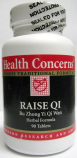 ---
Raise Qi (Bu Zhong Yi Qi Tang) is a traditional formula described in the "Treatise on the Spleen and Stomach" by Li Dong Yuan in 1249. It addresses deficiency of the spleen and stomach leading to sinking of the Yang. Many of the symptoms addressed by this formula are due to cold.
 90 capsules - 750 mg/each
Ingredients:
 Astragalus root* (huang qi), White Atractylodes rhizome (bai zhu), Asian Ginseng root* (ren shen), Dong Quai root* (dang gui), Bupleurum root* (chai hu), Black Cohosh root* (sheng ma), Tangerine peel* (chen pi), Licorice (baked) root* (zhi gan cao); *extract
These statements have not been evaluated by the Food and Drug Administration. This product is not intended to diagnose, treat, cure or prevent any disease.
---
Share this Product
---
More from this collection