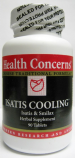 ---
Isatis Cooling Formula 
Clears toxins, Clears heat, Activates Blood Circulation
90 capsules, 650 mg
Ingredients:
Da Qing Ye & Ban Lan Gen (Isatis extract leaf & root) Dang Shen (Codonopsis Root) Mu Li (Oyster shell) Chai Hu (Bupleurum root) Tu Fu Ling (Smilax rhizome) Zhi Zi (Gardenia Fruit) Mu Dan Pi (Moutan root bark) Dang Gui (Tang Kuei root) Mu Tong (Akebia trifoliata caulis) Chi Shao (Red Peony root) Ze Xia (Alisma rhizome) Xiang Fu (Cyperus rhizome)
Other Ingredients: Silicon Dioxide, Stearic Acid, Cellulose, Sweet Potato.
These statements have not been evaluated by the Food and Drug Administration. This product is not intended to diagnose, treat, cure or prevent any disease.
---
Share this Product
---
More from this collection