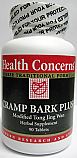 ---
Cramp Bark is a Native American remedy with warming and antispasmodic actions used for menstrual cramps. This herb is combined with warm, blood-vitalizing herbs that also help to relieve menstrual pains. Cramp Bark Plus is based on formulas for uterine cramping.
 90 capsules, 750 mg
INGREDIENTS:
Viburnum opulis (Crampbark root bark) Gui Zhi (Cinnamon twig) Niu Xi (Achyranthes root) Chi Shao (Red Peony root) Mu Dan Pi (Moutan root bark) Yi Mu Cao (Leonorus herb) Yan Hu Suo (Corydalis rhizome) Dang Gui (Tang Kuei root) Tao Ren (Persica kernel) E Zhu (Zedoaria rhizome) San Leng (Sparganium rhizome) Xiang Fu (Cyperus rhizome) Mu Xiang (Vladimiria soulieri root) Hong Hua (Carthamus flower)
These statements have not been evaluated by the Food and Drug Administration. This product is not intended to diagnose, treat, cure or prevent any disease.
---
Share this Product
---
More from this collection